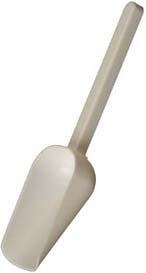 4 oz White Scoop

ID: 3002
White plastic candy scoops with long handle 4 oz size.

Love is SWEET! Need candy scoops for your Candy Buffet? Available in 2 and 4 oz sizes.  When you have a deep container or need to keep fingers away from the goodies.

Food Prep: Green - Fruits and Vegetables, Blue - Cooked Foods, Red - Raw Meat, White - Dairy, Yellow - Uncooked Poultry.
4 oz. = 1/2 cup
FDA grade polystyrene
2 W x 7 1/2 L ~ Overall
Handle is 4 L
Use in your kitchen after the wedding!
Hand Wash, ONLY
No Minimum Order
---
More from this collection