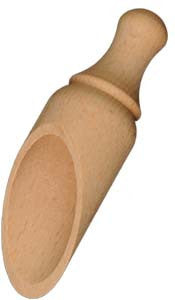 Unique Wood Scoop

ID: 5004
Elegant one piece tablespoon scoop.
Our M&M test: Scoop will scoop 22 M&M's
.
This elegant unfinished wood scoop is one piece and one tablespoon. Great for small containers with small candies or use in bathroom with bath salts. Image is not actual size.
1 Tablespoon = .5 oz. = 1/16 cup
3 1/2 L x 1 1/8 W
Flat Rate Shipping $5.95 on this item.
Hand Wash, ONLY
Image is not actual size
No Minimum Order
---
More from this collection