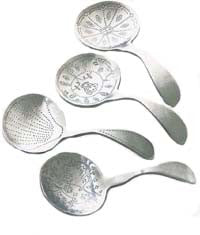 Designer Spoon Scoop

ID: 6044
Designer scoops / spoons in with four pattern designs. Patterns picked at random. Price is for one designer spoon.
Our M&M test: Scoop will scoop 15 plain M&M's.

Pretty patterned spoons come in handy as mini serving spoons. These spoon/scoop work great with shallow containers. Just the right size & shape for candy, sugar, salt, jam, nuts, ice cream toppings and more.
Stainless Steel
2 7/8 W x 3.5 L
Patterns picked at random
Wide spoon and arched handle
Price is for one designer spoon
Hand Wash, ONLY
No Minimum Order
---
More from this collection